We have been blessed with a bountiful harvest this summer and we would love to share it with you!  We're adding a North Austin weekly Tuesday afternoon delivery as a four week vegetable share program throughout July 2014.
What you would receive: Over $30 dollars worth of fresh produce each week for four weeks. The vegetables you receive will depend on our current harvest availability. We will always do our best to provide a good variety.  Vegetables/fruits we expect to have available for these shares:
Tomatoes – cherry, slicing and sauce varieties
Cucumbers
Yellow squash, Scallop squash, Zucchini, Tatume squash
Red Potatoes, White Potatoes
Swiss chard
Watermelon, Cantaloupe
Basil, cilantro, dill
Green beans
Onions, Leeks, Garlic
Jalapeño, Italian, and banana peppers
Okra
Eggplant
Many of the vegetables we grow are heirloom varieties, so you may get to try something you've never seen before!  Here's a picture of a share you could receive. Top row, left to right; garlic, dill, lemon squash, yellow squash, Italian peppers
Bottom row; red cabbage, golden cherry tomatoes, green beans, Swiss chard, Armenian cucumbers, leeks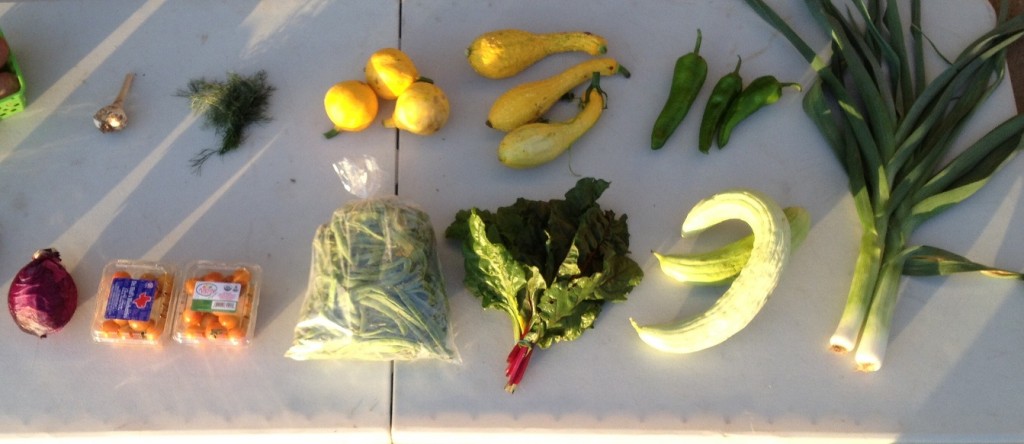 Where/When: Tuesday afternoons between 1:45 and 2:15 in the Dave&Busters parking lot at the 183/Mopac intersection.  OR we will deliver to your home or office for an additional $5 per week, within 5 miles of the 183/Mopac intersection – an area shown approximately on this map.  Home deliveries would happen between 12 and 3 and you don't need to be there.  Just leave an ice chest with a small freezer pack and let us know where to find it.  We'll leave your produce and it will keep until evening.
(by the way, if Georgetown is more convenient for you, we offer the same shares there on Thursdays in July.  Details here.)
What you pay: $120 to cover the 4 weeks, payable at your first pick-up, or $140 for home/office delivery.
Flexibility: If you need to skip a week due to travel, etc. we will allow you to slide one week so you would still receive four weeks of vegetables over a five week period. Just give us 3 days notice that you will not be picking up your share.
Our eggs and grass fed beef can also be delivered with your produce.  Special discount beef packages are available to our regular customers – just ask us about it.
First delivery is Tuesday, July 1.  Contact us soon if you're interested.