This is a busy week on our farm. After suffering lots of damage from deer this year we have purchased a deer fence that we'll be working to set up around our two garden areas. We're very excited to get started on this project and look forward to having safety from deer and rabbits for our fall season. We planted our fall tomatoes and eggplant last week and they're looking great! Our fall cucumbers, melons, sweet potatoes, squashes, peppers, okra and popcorn are also growing well. We have much more planting ahead of us in the next few weeks and look forward to a great fall season. Contact us to sign up for home delivery of farm fresh produce and eggs throughout our 12 week fall season.
This week's expected harvest:
Full share: Sunflower sprouts*, Potatoes (double portion), Shallots, Garlic, Cucumber, Black eyed peas or sweet potato leaves, Cherry tomatoes, Heirloom tomatoes (ripe and green), Okra (double portion), Basil, Lemon grass,
Half share: Sunflower sprouts*, Potatoes, Shallots, Squash, Tomatoes, Eggplant, Okra, Basil, Lemon grass
*Sprouts were unavailable due to poor growth after we adjusted our growing method. We're returning to the old method for next week and adding more potatoes and okra to round out the shares this week.
This week full shares will receive heirloom tomatoes grown by Skinny Lane Farm and Yukon Gold potatoes grown by Taylor Farm. You may also receive sweet potato leaves! They are a great summer substitute for spinach and greens.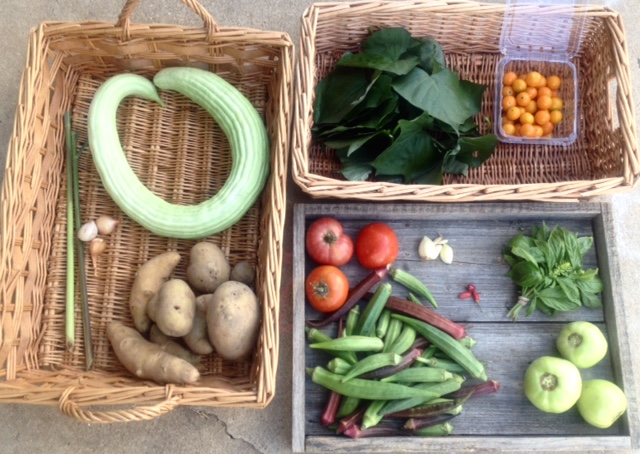 Recipe
Here's a great summer salad we made a couple weeks ago. Another way to enjoy your cherry or Sun Gold tomatoes and basil.
Marinated Mozzarella, Cherry Tomato, and Basil Salad
Ingredients
1/4 cup extra virgin olive oil
1/4 cup freshly chopped basil
1 pound ciliegine mozzarella (cherry-size mozzarella "pearls")
Kosher salt and freshly ground black pepper, to taste
1 pint cherry or grape tomatoes (about 2 cups)
3 tablespoons balsamic vinegar (regular, white, or golden – we used white)
Directions
Combine the oil and basil in a bowl. Add the mozzarella and season to taste with salt and pepper. Cover and let marinate for at least 30 minutes in the refrigerator.
Add tomatoes and vinegar to the mozzarella and toss to combine. Season to taste with more salt and pepper if desired, and serve immediately (original link at Serious Eats)
Here's another recipe that looks amazing, if you love Italian food. We have not tried this but a relative (of Italian descent!) recommended it. Great way to use your eggs, tomatoes, garlic, and shallots. This makes a big pot full, but you can scale it down as needed.