Last week we feasted on several fresh vegetable varieties from the garden along with beef from our farm-raised 100% grass fed cattle.  The main dish was Pumpkin Stew.   We used one of our Long Island Cheese Pumpkins, weighing about 12 pounds, and 3 pounds of stew meat from our grass fed beef.  Kale Apple Salad and Sweet Potato Chips accompanied.  We used our Kale and store-bought apples, along with various remnants of our sweet potatoes.  These chips are a good way to use sweet potatoes that are blemished.  Simply use the good part and compost the broken or bruised parts.  Dessert was, of course, Pumpkin Pie which can be made from the same stew pumpkin.
Pumpkin Stew Recipe (source)
Ingredients
2 pounds beef stew meat, cut into 1-inch cubes
3 tablespoons canola oil, divided
1 cup water
3 large potatoes, peeled and cut into 1-inch cubes
4 medium carrots, sliced
1 large green pepper, cut into 1/2-inch pieces
4 garlic cloves, minced
1 medium onion, chopped
2 teaspoons salt
1/2 teaspoon pepper
2 tablespoons beef bouillon granules
1 can (14-1/2 ounces) diced tomatoes, undrained
1 pumpkin (10 to 12 pounds)
Directions
1. In a Dutch oven, brown meat in 2 tablespoons oil. Add water, potatoes, carrots, green pepper, garlic, onion, salt and pepper. Cover and simmer for 2 hours. Stir in bouillon and tomatoes. Wash pumpkin; cut to 6 to 8 in. circle around top stem. Remove top and set aside; discard seeds and loosen fibers from inside.
2. Place pumpkin in a shallow sturdy baking pan. Spoon stew into pumpkin and replace top. Brush outside of pumpkin with remaining oil. Bake at 325° for 2 hours or just until the pumpkin is tender (do not overbake). Serve stew from pumpkin, scooping out a little pumpkin with each serving. Yield: 8-10 servings.
TOTAL TIME: Prep: 2-1/2 hours Bake: 2 hours
Kale and Apple Salad
Farm fresh kale and ripe red apples (not from our farm) make a great salad to complement the stew.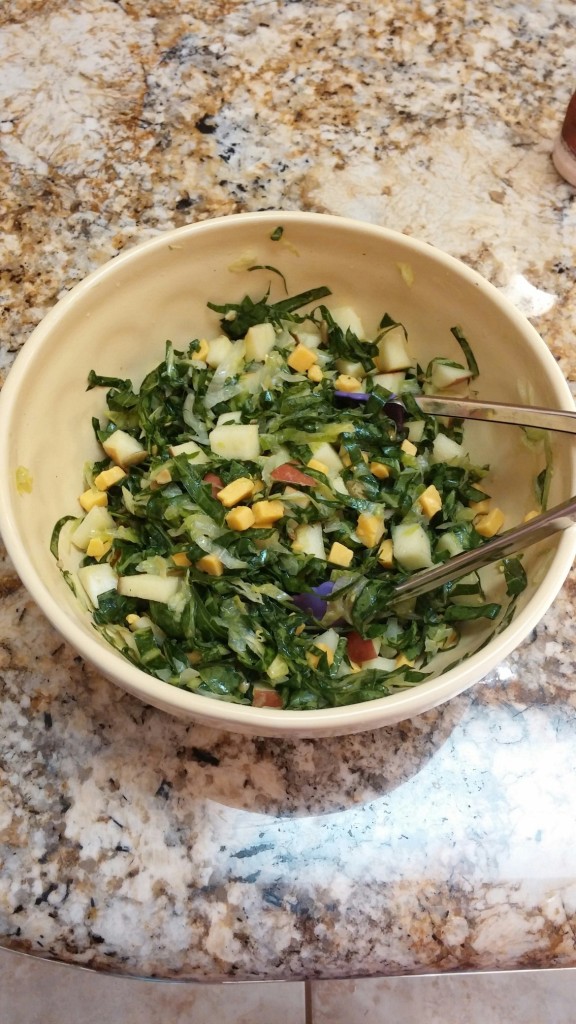 4 c. kale, sliced in thin ribbons
1 honeycrisp apple, diced
1/4 c. cheddar, diced (optional)
1/4 c. pumpkin seeds (pepitas), toasted
Dressing:
2 T. olive oil
1 T. lemon juice
1/4 to 1/2 t. honey
salt to taste
In a salad bowl, sprinkle kale with a little salt, and massage it in well. Let it sit while chopping apple and cheese. Add apple, cheddar, and pumpkin seeds to kale. Mix ingredients for dressing, adjusting according to taste. Pour over salad, and toss well. Let sit for 15 minutes before serving to allow kale to mellow.
Sweet Potato Chips
These were a hit with everyone, even the youngest children.  Save you big sweet potatoes for baking or casseroles and turn your smaller ones into delicious "potato chips."
Slice sweet potatoes as thin as possible. 1/8 inch thickness or less is best. Deep fry sweet potato slices in vegetable oil at 375 degrees for about 2 minutes or until slightly darkened in color and crisp. Drain chips on paper towels to remove as much oil as possible. Sprinkle lightly with salt.
Pumpkin Puree (Pie Filling from Scratch – source)
With the Pumpkin Stew above, you will have already removed seeds from the pumpkin. After the stew is cooked and served, you'll have plenty of pumpkin 'meat' left.  Cut up the pumpkin into 10 to 15 pieces.  Scrape out a thin layer where the stew soaked into the pumpkin.  Then bake the pieces at 350 degrees for about 45 minutes.  Then scrape the super soft 'meat' off the skin and puree in a blender or food processor.  See the link above for all the details.  Our 12 pound pumpkin yielded 16 cups of puree/pie filling.  That was after some of the pumpkin was taken with each serving of stew.  With 2 cups filling per pie, one large pumpkin can feed your family for quite a while!  Remember the puree/filling can be frozen so you'll have plenty for the entire fall and holiday season.