We're 6 years into the farm experience and our practice has been to not start too many new farm/ranch ventures at once.  We started in 2010 with a small garden, added a few laying hens, then three beef cattle a few months later.  In 2011 we planted our orchard and focused on the beef herd with 3 calves being born that year. 2012 saw our first major garden expansion, with another in 2013.  We started raising turkeys in 2014 and 2015, and finally pigs in 2016.  With this years' turkeys having been served for Thanksgiving and the pigs (grown to hogs) off to the butcher and safely in freezers (our own and several customers), we are looking toward 2017 and ready for the next project.
One of the most demanding animals to add to a family farm is a dairy cow.  The rewards are great – fresh, healthy milk daily – but the requirements are rigorous as well.  Daily milking, supplemental feeding of hay and dairy ration, a location for milking that will work regardless of weather, susceptibility to illness, plus breeding and calving.  So we waited a good while to take on this adventure, studied it quite a bit and waited for the right cow. This week we finally did it.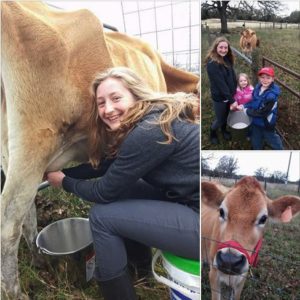 We now have a 3 year old Jersey cow and her 5 month old calf.  She was already a family milk cow and not your typical commercial dairy cull cow.  She's been a delight so far and we are learning to milk her and adjust her feeding.  It's been a big help to have several years of experience with beef cattle.  This dairy cow is much tamer than the beef cattle (though they are really gentle and easy-going) and is almost like a pet.  But we already know how to fence her, read her body language, tell if she hungry/stressed/content, and understand how she relates to her calf.  We're enjoying about 3 quarts of milk daily, leaving the calf with her for about 6 hours a day to 'share' the milk.
We're thankful to be off to a good start.  Our beef cattle experience has been helpful but these videos help too – especially with the milking and care for the milk.  The book Keeping a Family Cow is a great resource too.   If you're thinking about getting a milk cow, definitely check out these videos and get the book first.  And visit a farm to see how the cows respond to interaction with the farmer, how they are fenced, fed, etc – even see if you can milk one.   It's definitely a big commitment so do your homework first and you'll be much more likely to have a great family experience.
Keeping a Family Cow: The Complete Guide for Home-Scale, Holistic Dairy Producers
Price: $19.01
(59 customer reviews)
59 used & new available from $13.66