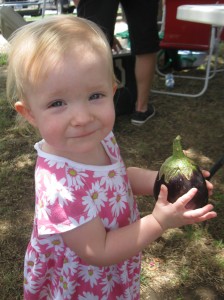 Mid Summer is eggplant season.  Here's a great and creative way to use these wonderful vegetables.  This cake would remind you of a zucchini bread.  It takes about 12 Asian style eggplants or 6 medium to large size Italian style eggplants (as in the picture).
We've had a great crop of eggplant this year and just sold about 50 earlier this morning at the Elgin Farmers Market.  We should have more for the next several weeks.
Originally published in the Baker Creek catalog, here's the recipe for your convenience:
Eggplant Cake
2 cups Ping Tung eggplant (peeled, cooked & puréed – traditional eggplant works too)
1 cup vegetable oil
2 tsp. vanilla
1/2 cup brown sugar
1 1/2 cups white sugar
1 tsp. baking powder
1 tsp. baking soda
1 tsp. salt
1 1/2 Tbs. egg replacer
3 cups all-purpose flour
Preheat oven to 350 degrees. Wash, peel, cook and purée eggplant. Pour purée in colander and press out excess liquid. Mix dry ingredients together in a separate bowl. Mix wet ingredients together and add to dry. Pour into a well-greased 9×13″ baking dish and bake in a preheated oven for 30 minutes.