Last week we took our first steer to the butcher.  We started raising cattle on the farm in 2010 with three bred heifers who calved in June of 2011.  This steer was one of those calves.  The other two calves were heifers (female) and are now pregnant themselves.  All our cattle are 100% grass fed, never being fed grain of any type. They're raised gently and naturally, spending their whole lives on our farm.
We plan to keep some of this beef for the family and sell some.  This will be our only beef animal for a while, but we should have enough for interested folks to sample.  As we grow over the several years, we hope to six to eight beef animals for purchase annually.  For now, we'll be selling ground beef and selected cuts of this steer at the Elgin Farmers Market.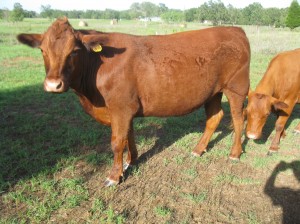 We're excited to get our first taste of farm beef and are celebrating with a little contest. Guess the weight of the steer as pictured here just before we took him to the butcher.  The closest guess wins two pounds of ground beef.  That's $15 worth of premium 100% grass fed / 100% grass "finished" beef.   When you send in your guess, we hope you'll also subscribe to the Blessing Falls Newsletter.  It's free and we'll send it now and then to keep everyone updated with farm news and harvest schedules.  Take a look at these photos and send us your best guess!  Click any photo for a closer look.
Raising a pure grass fed animal takes greater time and care.  Pasture quality improves by rotating the animals to fresh grazing areas often.  We've had him on top quality forage for several months.  This included irrigated pasture as well as natural wooded areas with a variety of native plants and trees.  Starting several weeks ago, due to dry conditions early this summer, every day we also gave him fresh hay along with a pound of alfalfa. The varied food sources insured access to all nutrients needed for optimum health and kept him continually gaining weight.  Steady weight gain is key to tender meat.  Keeping cattle comfortable and stress free also contributes greatly to the tenderness and quality of the meat.  We gently handle the animals without shouting, prodding, or inflicting pain.
The health benefits of grass fed beef are becoming more widely known as research is compiled.   We'll be writing more extensively on these health impacts later, but for now here's an overview of nutritional differences and a comment from the Mayo Clinic on grass fed beef.  100% grass feeding also avoids the problems of genetically-modified (GM) grains fed to livestock in a typical feedlot.  Studies and research increasingly show a variety of health issues related to GM crops.  One very recent study found GM corn and soy as the direct cause of intestinal and uterine disease in grain-fed livestock.
Finally, while the quality of the soil, pasture, and animal are very important, the butcher processing the final product is crucial as well.  We use a well established local processor with a good reputation.  They're a small scale facility handling only a few dozen animals a week.   Low animal stress just prior to slaughter is another key to tender, great tasting beef.  The experienced staff and smaller facility mean more personal attention for each animal and less stressful crowding and noise for the animals.  To help ensure safety and health, an official state of Texas inspector is onsite throughout the process.   Every animal is aged and custom butchered according to cut orders specified by each customer.  We're having this steer hung for 14 days of "dry aging" before he's butchered into the cuts we selected.  This aging process further tenderizes and flavors the meat.  The final cuts are vacuum wrapped so they will taste fresh even after many months in the freezer.
Thanks for your interest in our cattle and naturally raised grass fed beef.  Remember to enter the contest to win some beef!