This past week we made several delicious recipes with our fresh basil:
The first is very common, but so good: Tomato Basil Soup!
Here is the recipe:
Ingredients:
4 cups fresh tomatoes, cored, peeled, seeded, and chopped
(or 4 cups canned whole tomatoes)
1 cup tomato juice
2 tsp. minced garlic
12-14 fresh basil leaves, washed
1 cup heavy cream
1/2 cup butter
salt and pepper, to taste
Directions:
Combine first ingredients in a saucepan. Simmer 30 minutes. Puree, along with basil leaves, in small batches, in blender or food processor (or right in the pan with a hand-held food blender). Return to saucepan and add cream and butter, while stirring over low heat. Salt and pepper to taste, garnish with basil, and serve with your favorite bread.
The second recipe is just as good as the first: Chicken Pesto Pizza! We like to make it with homemade pizza crust, homemade pesto, and we grill our own chicken. It is definitely time consuming, but very much worth it! This particular pizza was also made with our homegrown golden cherry tomatoes! It was so pretty.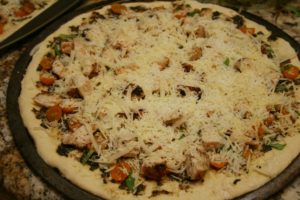 Ingredients:
2 Pizza Crusts
Basil Pesto (recipe follows)
1 1/2 Cups Fresh Tomatoes, sliced
3 Grilled Chicken Breasts, cut into bite-size pieces
Fresh Basil, cut into strips
2 Cups Mozzarella Cheese
1/4 Cup Parmesan Cheese
Directions:
Preheat oven according to pizza crust directions. Brush pesto over crust. Arrange tomato slices, chicken, and fresh basil over pesto. Sprinkle cheeses on top. Bake according to pizza crust directions. Enjoy!
Homemade Pesto:
2 cups tightly packed fresh basil
1-2 garlic cloves
1/2 cup olive oil
1/2 cup grated Parmesan cheese
1/4 tsp. salt
In a food processor, puree all ingredients together. Serve over fresh pasta, spread on toasted bread or serve many other ways! Keep in refrigerator for several weeks or freeze in a tightly covered container.
We hope you enjoy making and eating these wonderful meals!