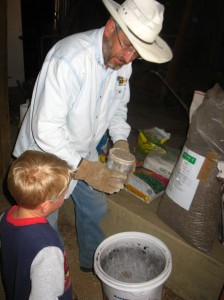 The first few rows of the garden were amended for mineral deficiencies last year.  So the next step is preparing and spreading organic fertilizer.  We measured and marked off the rows and planted the first rows before our order of plastic mulch arrived.
On all the other rows, plastic mulch is placed on top of the drip tape.  The plastic is an excellent weed barrier and also limits evaporation so we don't have to irrigate very much.
We track everything on spreadsheets showing dates for seeding, transplanting, and expected harvest as well as row locations for each variety planted.