The heat wave continues and so does the harvest.  Our shares will likely vary this week according to conditions but here's what we're expecting:
Full share: Melon, Sunflower sprouts, Pea shoots or extra sunflower sprouts, Okra (double portion), Sweet potato leaves (double portion), Pears, Tomatoes, Peppers, Squash or cucumber, Spaghetti squash, Basil, Shallots
Half share: Melon, Sunflower sprouts, Okra, Sweet potato leaves, Pears, Eggplant, Cucumber, Basil, Shallots
The spaghetti squash and some of the melons in this week's shares are from Bernhardt's Farm in Elgin.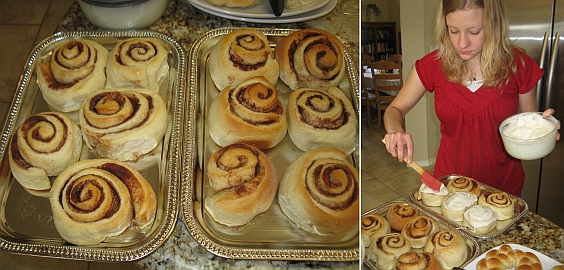 We're also offering fresh, home made, baked goods for special order this week (cinnamon rolls, dinner rolls, hamburger buns).  These are available with our Wednesday deliveries.  Members, look for pricing and details in your weekly email and reply by 2pm Tuesday with your order.
Recipes
With the recent abundant okra, you may want to freeze some for later.  Slice okra into 1/4 inch rounds. Arrange slices in a single layer on a parchment paper lined cookie sheet and freeze for a few hours until frozen solid. Store frozen slices in freezer bags or containers.
Here's an idea for the pears in this week's shares…
Oven Pear Pancake (source)
Ingredients
2 pears
1/2 cup sugar
1/4 cup all-purpose flour
3 eggs
1 cup whole milk
2 teaspoons vanilla
1 tablespoon unsalted butter, melted
salt
1/2 teaspoon ground cinnamon
2 tablespoons sugar
Directions
– Heat oven to 400º F.
– Lightly coat a 9-inch pie plate with vegetable cooking spray. Peel, core, and cut into eighths and arrange them in the pie plate.
– Combine 1/2 cup minus 2 tablespoons sugar, flour, eggs, whole milk, vanilla, unsalted butter, and a pinch of salt in a blender. Pulse until smooth, about 30 seconds.
– Pour over the pears. Place in the oven and bake until springy to the touch, 25 to 30 minutes. Remove from oven. Heat broiler. Sprinkle the pancake with ground cinnamon and the 2 tablespoons sugar. Broil until browned, about 1 minute. Serve warm.