Blessing Falls LLC grows natural, safe, healthy fruits and vegetables using organic methods and practices and delivers the harvest throughout the greater Austin area. Our family farm was established in 2010, each year adding more garden space and different varieties of vegetables, herbs, fruit trees, berries, and animals.  For 2015 we've greatly expanded our garden space and we hope to have plenty to share with the whole Austin area.  Partner with us and enjoy the health and taste of natural produce along with the ease and convenience of delivery right to your front door.  Pasture-raised eggs and grass fed beef are also available with your weekly order.
"Community Supported Agriculture", or CSA, means farmers and supporters partnering together for the sake of healthy, nutritious food. Supporters join as members, paying the farm expenses early in the season when costs are highest. As the crops mature, all members enjoy sharing in the harvest. This community of farmer and members benefits everyone – costs and risks are shared and none of the harvest is wasted but goes directly to waiting members as soon as it's harvested. You may think of it as a subscription to fresh, natural food. Costs are paid early and the bounty is enjoyed every week.  Click here to join our CSA now or continue reading for all the details.
Season Schedules
In the greater Austin area throughout 2015 we plan 3 seasons:
Spring: 12 weeks March 30 – June 19
Summer: 10 weeks June 22 – August 28
Fall: 12 weeks August 31 – November 20
Weekly Shares
Members decide if they want a full share or just a half. The full share works well for 3 to 6 adults/teens, while the half share works best for couples and families with only young children. Here's a full share from last spring.
Here are last year's summer shares. All these shares were "medium" sized. 2015's full shares will be bigger than these and the half shares will be smaller.
We hope these photos help you select the best share size for your needs.  The harvest varies throughout each season.  Here's what we're planting this year:
Spring: lettuce, kale, Swiss chard, micro greens and sunflower sprouts, cabbage, broccoli, cauliflower, spinach, carrots, turnips, rutabagas, cilantro, peas, potatoes, onions, dill, cucumbers, yellow squash, blackberries, tomatoes, garlic, sweet corn, zucchini, green beans

Summer: potatoes, onions, dill, cucumbers, yellow squash, tomatoes, garlic, sweet corn, zucchini, green beans, cantaloupe, jalapeños, Italian peppers, basil, various squash varieties (spaghetti, lemon, scallop, acorn), eggplant, honeydew, watermelon, black eyed peas, okra, bell peppers, sweet potato leaves

Fall: pumpkins, several varieties of summer and winter squashes, tomatoes, eggplant, sweet peppers, jalapeños, popcorn, okra, melons, pears, cabbage, lettuce mix, mizuna, sweet potatoes and sweet potato leaves, radishes, greens, cucumbers.
Delivery/Pickup
We'll deliver your weekly share to your home or workplace in the greater Austin area! From downtown to Liberty Hill; Lakeway to McDade; South Austin to Georgetown and points between we've got you covered.  No need to meet us at a specific time and you do not need to be home.  If you won't be home or don't want to be interrupted just leave an ice chest and we'll deliver your produce between noon and 5:00pm on your scheduled day. If you'd prefer to pick up your share, we do have sites we can meet you. Most items you'll receive will have been harvested within the previous 24 hours. Some are harvested the same morning we deliver so your share is as fresh as possible.
Cost
Weekly cost for a full share is $36 and a half share is $24. Delivery is $4 per week. We offer substantial discounts when you sign up for more than one season and also for early payment. You can mail us your check or go online and pay with your PayPal account or any credit card.
Before the 2015 season began, we offered discounts from 8% to 13% for those who signed up early and helped with our pre-season expenses.  Now that the season is underway, we offer a 3% discount for those who can pre-pay for the season in progress and a 6% discount when you also pre-pay for the next season.   The CSA sign up page is updated weekly to reflect the remaining weeks in the season and available discounts.
Ready to Join Us?
Simply fill out this form and we'll get right back to you with a confirmation and details on how to make your payment.
FAQ – Frequently Asked Questions
Where exactly can you deliver?
Any address in these zip codes. If you are just outside these areas, contact us and we'll probably be able to work something out.
Austin 78701 78702 78703 78704 78705; 78710 78712 78717; 78722 78723 78724 78727 78728 78729; 78731; 78741 78745 78746 78748 78749; 78750 78751 78752 78753 78754 78756 78757 78758 78759
Pflugerville 78660
Hutto 78634
Coupland 78615
Taylor 76574
Thrall 76578
Lakeway 78734
Round Rock 78664 78665 78681
Georgetown 78626 78628
Cedar Park 78613
Leander 78641
Liberty Hill 78642
Manor 78653
Elgin 78621
McDade 78650
Our current pick up sites are the farm (located halfway between Thrall and Elgin) and the Round Rock Post Office parking lot. More may be added depending on the locations and schedules of members who join.  If you switch from delivery to a pick-up site we'll refund the balance of your prepaid delivery fees.  When you sign up, we'll ask you for convenient times/locations for possible pick-up.  Even if you initially sign up for home delivery, we'd like to have an idea of what drop-off locations might work for you in the future.
Am I guaranteed plenty of produce each week?  What if crops fail?
Our goal is to deliver an abundance each week, so that you have plenty and even some left to share with friends and neighbors.  However, the harvest can vary according to weather, insect pressure, etc. It could even fail due to a hailstorm or other uncontrollable events. In our 5 year history we have not experienced a large crop failure but it's always possible. If the harvest is low on a given week, it will usually bounce back the next. A cold front or storms can affect the harvest but it usually comes back strong. If we have a really bad week, we'll supplement shares with healthy, safe, natural produce we'll buy from other local farmers we know and trust. If we were to have a significant failure affecting the whole season such that we are unable to continue deliveries, we will credit your undelivered shares toward the next season.
Can I pick and choose what I receive in my weekly share?
Members do not choose specific varieties for their share but will receive an assortment of whatever is ripe for harvest during the week.   We'll make sure you have enough of a particular variety so you can prepare a whole dish with it.  We focus on growing the usual, typical, mainstay vegetables and also some that may be unfamiliar.  We trust you'll enjoy the adventure of trying a few new things each season.  In the rare event that you receive something you don't like or can't use, please share those with friends.
What other farm products are available?
We have farm eggs and grass fed beef that you can add to your weekly share. We have baked goods and honey on some weeks and are planning to raise holiday turkeys to be ready in November. Our members will be notified when these extra items are available. Simply mail your payment (or pay online) to cover the cost and we'll deliver these when we bring your weekly share.
Can I visit the farm?
Certainly! As a valued member and partner you are welcome to come see your produce as it grows and the farm cattle, chickens, and turkeys. Some days and times are more convenient than others so we ask that you contact us first. You can always come pick up your share at the farm, even if you are normally receiving deliveries, and have a look around while you're here.
What if I'm not home to receive my delivery?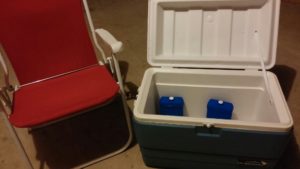 No problem at all! Simply leave an ice chest near your front door or some other designated shady spot. A medium sized 48 quart chest with a couple freezer packs or frozen water bottles will hold a full share comfortably and keep it cool all afternoon and possibly even overnight.
If I am out of town for a week, can I skip my delivery or pickup?
Since the produce harvest keeps coming and cannot be stored more than several days, we cannot skip or defer CSA produce shares. We will gladly deliver your share to an alternative address within our delivery area. Your share could be a welcome gift to a local friend or you could have them pay you for it. We can also donate your produce share to a community food pantry.
Since eggs and beef are more easily stored and preserved, we can defer delivery of these. For example, if your weekly order includes a full share of produce, 2 dozen eggs, and 2 pounds ground beef then we could deliver the produce to a friend and keep the eggs and beef.   When you return the following week you'd get 4 dozen eggs and 4 pounds of ground beef.   So you would not lose any eggs or beef you've paid for.  Of course, you can have us deliver the eggs and beef to your friend – your choice.
How do members and the farm stay in touch?
In addition to the farm website and Facebook page, we'll email our members weekly reminders. The email will remind you of your day of delivery and give more details on the items in that week's share. It will also indicate any balance coming due and your recent payment history. To contact us you can simply reply to these emails or contact us through the website or call the phone number we make available to all our members.
More questions?  Just let us know.   When you're ready to join us,  simply fill out this form and we'll get right back to you with a confirmation and details on how to make your payment.